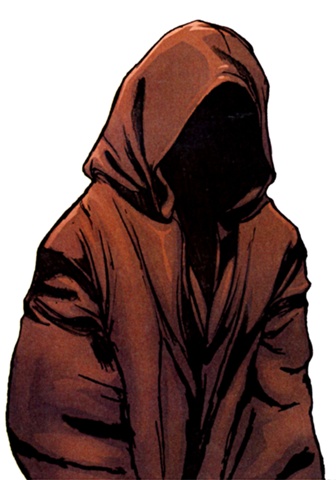 He would not need a guide this time, he would not need to put on airs, he just needed to go to this location. Thanks to Mikaboshi, this individual was confined to such a deep and hidden location, that there were only two people that would ever find her; the Deep Court Ancient and himself. Granted, it was not easy for him and if he had not been present when Mikaboshi had abducted her he may have never found it. Thanks to this privacy, he did not even bother with his mask, just a dark cloak.

Within the darkness, cloaked in the darkness, and entering a room full of darkness, he would spark a torch light and hang it upon the wall. Before him would be Avaron, the one whom Mikaboshi had abducted, much like Fuu, but did not get corrupted like the previous Cabal member. He was not certain what all the Ancient wanted with her, but he knew exactly what he wanted from her.

"Avaron... Juu... which do you prefer?"

He would remain standing, keeping some distance from her as he looked down upon the captured Sovereign member. She, out of all of them, was the most mysterious. She had been relatively new to the Academy, so there was a chance she did not ever encounter him, well the old him. That was perfect. What was also perfect was that she seemed to have a uniquely strange, yet oddly familiar, ability to her. She could consume the powers of those she touched. It was a terrifying ability, yet it resonated with him. Who was she... and more so... who was he?

"I have some questions I would like to ask you. First, your ability to consume the powers of those you touch. Was this an ability you gained from the Sovereign Academy or did you have it prior?"

A shadow would be cast upon his face thanks to the interplay of the cloak hood hanging over his head and the dim lighting thanks to a single torch. Either way, she had never seen his face anyways. The last time two times he met with her he was wearing his Tenken mask and his voice was distorted.