[Mission Title: Liberation]
Starring: Hikari, Siu & Senju, Shizuka
Theme Song:
Location: The Cronopolis
Time: 20:37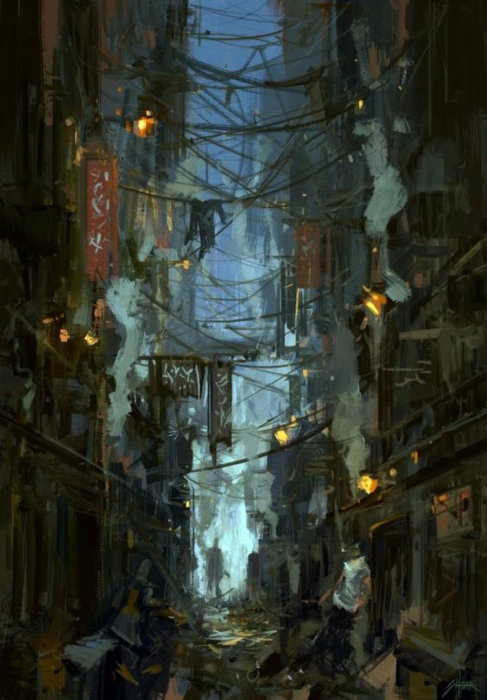 If Hell existed upon this earth, this just might have been its dwelling. The Slums of Kumogakure: A garbage dump for the city's waste; trash and human alike.

The air of the dimly lit, eerie slums tasted unclean. Musky; polluted with an accumulation not wholly describable in words. Among the decrepit, collapsing wooden-architecture making up the district, its batter-clothed, unwashed citizens roamed; eyes filled with unhappiness and despair. Siu had witnessed that look before during her time in the Marshlands; a look she herself had also once shared. They were jaded eyes utterly fed up with and done with life; finished with contending against its hardships, and finally accepting of their ill-dealt fate.
Scantily dressed women called out from the alleyways, men opened their heavy, black coats to reveal their wares; arsenals of various drugs, weaponry, and stolen jewelry. Myriads of trash and waste decorated the streets; from cardboard boxes, to rotten food, to used drug containers.

Despite Kumogakure's reputation as the developed gem of Lightening Country, the painful reality was it also still shared many of the dark imperfections of Lightening's less prominent cities. This Hell for lower-class inhabitants struggling to survive day by day within the dangerous, impoverished environment was conversely a sanctum for its demons in human form; the crimelords of the Lightening.

Juxtaposed against the usual natives of the slums, Siu wore a far more uncommon, yet in no way unfamiliar attire. She would not be sporting her usual Marshland wear, neither her more sophisticated Susukino-native wear. Citizens wearing the later in this district drew attention, spelling two things: 'Money' and 'Naive'; Perfect prey for mugging.
Siu's wear had indeed also drawn attention, yet the lowered heads and avoided eye contact immediately afterwards would communicate a dissimilared form; Fear. Her attire spelled two things: 'Money' and 'Death'; The attire of Cronopolis criminals. Overlords of the impoverished land, any attempt to mug them, their gangmembers, or even their family members—whether knowingly or unknowingly—guaranteed death. The Underworld had eyes established everywhere; every streetcorner, every alleyway. Where they weren't established—anyone could easily be paid or 'pursuaded' to become them.

"Shizuka," whispered the taller female, stooping to the side in order to bring her lips closer to the younger girl's ears. "It's not guaranteed we'll remain together once inside. So, if we're separated, I want you to learn what you can about the children, and how we can save them. I'll do my best to try and gather what I can from the meeting.
Remember, there are more objectives than just saving the kidnapped children here. Were looking an opportunity to permanently end this business. So, try your best to remain undetected and not do anything too rash—especially if were not together." Straightening back upright, she'd continue on towards the
indicated meeting point.

---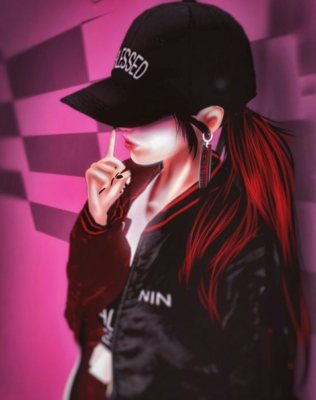 Standing at the foot of an unassuming door was a rather unique man; Tall, muscular although paunchy in build, adorned with a black t-shirt, simple jeans, and a number of emblem rings decorating his fingers. His look was topped off with a pristine, bald head. The guarded structure behind him seemed no more significant than the rest of its unsightly surroundings. Hardened features would gaze downward to inspect the two, new arrivals.

"State'chya biz, youngblood." a husky voice requested. A concealed eyebrow arched under the undercover shinobi's cap; Wouldn't one assume the pair's purpose to be obvious? After all, a hoodlum-attired female accompanying a small child to a gang-affiliated male guarding the door of a decrepit building in the middle of Kumogakure's most dangerous of ghettos would have seemed like a dead-giveaway for her business, right? Perhaps, secrecy held priority regardless, and it was deemed far wiser to inquire the obvious than to assume wrongly and allow access to the wrong individuals.

"Gotta shipment," the disguised kunoichi nonchalantly replied, doing her best to mimic the street-accent she'd come across here and there throughout Kumo.

"Tag?"


There was a delay as the female took a moment to contemplate; She hadn't considered being inquired her name. For the sake of her identity, and more importantly, for the sake of her family's identity, it would in no way been wise to reveal her true name. Underworld criminals were no fools, and they had enough connections to hunt down both Siu, and more fearfully, those connected to her whom were far less proficient at defending themselves—like her very own mother and father.

Therefore...

"Shing."

A single, white paper unfolded from the man's pocket. The chilly, passing breeze caused the kunoichi to pull her jacket somewhat tighter as the distant sound of barking dogs echoed through the district. Mixed-gendered giggling traversed from a nearby alleyway—Siu didn't want to know why.

"Ain't spottin no Shing..." the guard would nonchalantly inform, still examining the list.

"Taaru's blood, filling in for him. He's on biz."

"Taaru?" A brow quirked as the man looked over the paper to return attention back towards the female. "Ya game'in! Lips leakin the crazy-fuck tombstoned."

"Nope—still pumpin. Be doin biz in Marsh these days."

The guard hummed in obvious rumination.

Suddenly crouching down to match the level of the frailer, far shorter female aside Siu, he'd tilt his to the side, his features studying hers. A large thumb lifted to slightly tug down her bottom eyelid, inspecting for abnormalities, before moving to lightly grip her jaw.

"Ahhhh," he'd casually inform the smaller girl to mimic so he could check her teeth-condition. Siu felt somewhat uncomfortable and rather guilty upon witnessing the whole scene, having been the one to allow the young Senju to suffer such circumstances for the sake of their mission strategy.

"Raw-Bones don't look to be keepin'a week—ya really hot'ta be cashin in?"

"Taaru's orders."

'Tch," the man exhaled, seemingly amused, as he stood back upright. "Fucker ain't tombstoned now—he'll definitely be when Bigs spot this."

Stray posters and miscellaneous trash tumbled through the street as another breeze swept by.

"Aight," the male announced, finally stepping aside from the door. "Cash 'er on in."